San Gemini Preservation Studies 2018
Session 2: Monday, July 9 – Friday, August 3 (4 weeks)
Location: San Gemini, Carsulae, Italy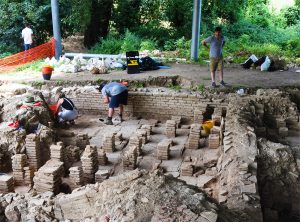 Objectives
One goal of the project is to record and analyze the building structures that have emerged at the excavation of the Public Bath in the ancient Roman city of Carsulae both from a structural and architectonic point of view. The second goal is to study the bath excavation site in relation to the entire present-day archaeological park and plan a new access for visitors.
Primarily a research work program, this project will not consist of a set of structured lectures and most field activities will be focused on the research, design, and the documentation process. There will be a series of lectures and visits focused on specific subjects that are relevant to the research work being done. The work will not involve any archaeological excavation, although the student-researchers will have access to the archaeological excavation to observe and document the structures.
This project is open to a small group of graduate student-researchers that have the specific skills necessary for the research. Preference is given to students that can read Italian and who are interested in incorporating the summer research into longer-term work, such as thesis research.
This page is under construction