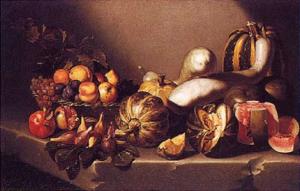 San Gemini Preservation Studies 2017
The History and Culture of Food in Italy
San Gemini, Italy, June 26 – July 7
Instructor Prof. Tommaso Lucchetti
SG210 (2 units) Syllabus
History traditionally dealt only with political and administrative events. Modern historians, however, are using a broader approach, taking into account the social, economic and cultural lives of people. Any serious study of the cultural and economic history of people requires an understanding of their food systems, not only because food is a vital element for life but also because, until very recently, most people in the world lived in agrarian societies and their lives almost exclusively revolved around the production and processing of food. Even though few individuals in a modern industrial society participate directly in agriculture, food is still a vital aspect of our daily life and a very central component of our culture.
This course gives a complex panorama of the history of food  and cultural traditions in Italy. It offers an overview of the historical development of food production in the Mediterranean (from the original domestication of native plants to the introduction of new crops imported from the rest of the world) and a study of the traditional food staples used in Italy.
Food as a strong influence of culture, this course explores the following topics: religion (dietary laws and the use of food as part of religious ritual); the development of regional peasant cooking and courtly food practices; the culinary arts; eating traditions; the art and ritual of conviviality during meals; the influence of food on artistic forms (painting, sculpture, architecture and literature); and, more recently, as part of globalization the use of food as icons of national branding.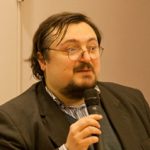 Prof. Tommaso Lucchetti
This course is taught by Professor Tommaso Lucchetti, one of the foremost scholars in the study of the History of Italian Gastronomy, he has a special interest on "meals and conviviality", the rituals and social activities associated the consumption of food. Among his many credentials he studied at the University of Bologna under Prof. Massimo Montanari.
Some of his Italian publications are:
La cucina delle monache. I ricettari delle clarisse di Serra de' Conti.
Lucchetti, Tommaso, Il Lavoro Editoriale, 2012
Il Poeta e la Sua Mensa. Memorie e Sapori nella Vita e nell'Opera di Giacomo Leopardi. Con una selezione di ricette dell'epoca. Lucchetti, Tommaso, Il Lavoro Editoriale, 2012
Storia dell alimentazione della cultura gastronomica e dell arte conviviale nelle Marche
Lucchetti, Tommaso, Il Lavoro Editoriale, 2010