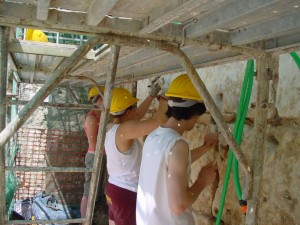 San Gemini Preservation Studies 2017
Restoration of Traditional Masonry Buildings in Italy
(3 units)

Session 1 (May 29 – June 23) 4 weeks
Course #: SG201 preliminary syllabus
Instructor: Prof. Nikos Vakalis
E-mail: nikosvakalis@libero.it
COURSE DESCRIPTION:
This course introduces students to restoration of historic buildings in Italy. It explores the traditional materials and techniques used to create the buildings and the artwork that is integral to their structure, it also examines the various agents of deterioration that, over time, damage the materials and the different approaches to their restoration and conservation.
The course investigates such traditional building materials as stone, mortars, cements, architectural ceramics, wood and architectural metals. It also examines the materials and methods used in the artwork and decorations, such as fresco painting, secco murals, painting on wood panels, gilding, stone and wood sculpture, decorative plasters, mosaics and stained glass.
The course combines theoretical learning in the classroom with a hands-on experience in the field. As part of the course students will be working on our present field project: the restoration of the Church of Santa Maria Incertis (San Carlo) a 13th century church in San Gemini.
COURSE OBJECTIVES:
The objectives for this course are to introduce students planning a career in restoration to the field, and to offer a useful overview of the process and problematic examples of restoration to students involved in other aspects of the process of conservation and historic preservation. This course is aimed at students of Restoration and Conservation, Historic Preservation, Architecture, Art, Art History, Cultural History, Engineering, Anthropology, Archaeology and Museum Studies.
SUMMARY OF LECTURE CONTENT:
Stone
• Geology and Description
• Quarrying, transportation and handling methods
• Traditional Uses in Architecture
• Traditional Uses in Art
• Decay Factors
• Restoration Methods
Cleaning
Consolidation
Cement , Plaster and Mortars
• Lime and the lime cycle
• Aerial lime mortars
• Hydraulic mortars
Pozzolanic
Coccio pesto
"Roman Cement" 18th century
• Decay factors
• Restoration methods
Pointing
Mural painting

• Materials and methods
Pigments
Lime plaster
Organic binders
• Fresco
Ancient Roman
Byzantine
Renaissance
• Secco
• Decay factors
• Restoration methods
Decorative – Plasters and Stuccos – Materials – Decay Restoration
• Materials and technology
Stucco
Gesso (plaster of Paris)
Cannucciato (lath)
• Decay factors
• Restoration methods
Theories of Restoration
• Traditional methods of restoration
• Modern methods of restoration and preservation
• Understanding modern approaches to restoration
AFTERNOON WORKSHOP:
Restoring the façade of the Oratory of San Carlo in San Gemini, a small church built in phases from the 13th to the 15th centuries. The work will include:
• Treating stone with biocide
• Stone cleaning
• Consolidation of stone where necessary
• Removal of inappropriate mortars
• Pointing stone work with lime mortars
• Treatment of stone with sealers
• Applying velature where necessary
COURSE STRUCTURE:
Mornings: Lectures 1.5 hours (4 weeks). Afternoons: 4 hours field work (2 weeks restoring stone work of the facade of the Church of San Carlo in San Gemini)
READINGS:
Reading list supplied with acceptance to the program.
DESCRIPTION OF ASSIGNMENTS:
Field work: Complete various assignments that are given as part of the field project
Term paper #1: 8 page paper on a topic to be assigned
Term paper #2: 8 page paper on a topic to be assigned (graduate students only)
Exam: mixed format – quiz and essay questions