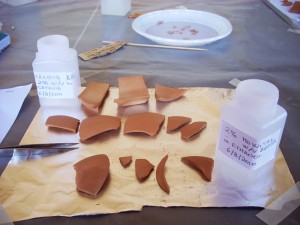 San Gemini Preservation Studies 2013
Conservation of Archaeological Ceramics  – Workshop, Part 2  (3 Credits)
Session 1 (May 26 – June 22) 4 weeks
Course #: SG203A  preliminary syllabus
Instructors:
Prof. Elena Raimondi
elenaraimondi@gmail.com
Prof. Jane Whitehead
jwhitehe@valdosta.edu
Prof, Massimo Vidale
massimo.vidale@beniculturali.it
Prof. Elena Lorenzetti
elena@casalecydonia.com
Note: This course is being done in conjunction with the Carsulae, Roman Baths Excavation  team, from Valdosta State University. This course is related  and complementary to the  excavation; students at the end of our course, if they so desire, can join the excavations. There is a one week overlap between the two programs. In the last week of the ceramics program, students doing both programs will be required to attend some of the introductory lectures and meetings for the excavation.

COURSE OBJECTIVES:
This workshop class is complementary to the course: Introduction to Conservation of Archaeological Ceramic in Italy (S1-B2). In this workshop students will get hands-on experience working with clay to acquire familiarity with traditional clay materials and fabrication techniques. Students will also get hands-on experience learning basic conservation skills such as identifying the various ceramic materials, morphological analyzing of pottery, documenting archaeological ceramics, cleaning, consolidation and restoration of archaeological ceramics.
SUMMARY OF COURSE CONTENT:
First Section
Students will learn basic skills in analyzing pottery in regard to their: materials, forms, time period and place of origin.
Identification and analysis of materials
Morphological analysis of diagnostic pottery
Historical and typological analysis of pottery
Second Section
Students will learn how to record, document and organize artifacts and data collected in the field as well as the result of the various analysis conducted in the lab.
Organizing Material
Locus method
Strata method
Sorting sherds
Documentation
Written
Graphic
Electronic data bases
Field setting
Museum setting
Storage
Temporary during excavation
Long term in museum and archives
PART 3
Conservation and restoration of archaeological ceramics. In this workshop students will learn to apply the principal techniques of ceramics conservation. Some of the work will be on artifacts from Carsulae's Baths Excavation.
cleaning
consolidation
numbering
searching through fragments
re-assembling
filling gaps in reassembled pottery
proper storage delicate artifacts
COURSE STRUCTURE:
Afternoons: 4 hr. workshop sessions, workshop projects, assigned reading, written assignment.