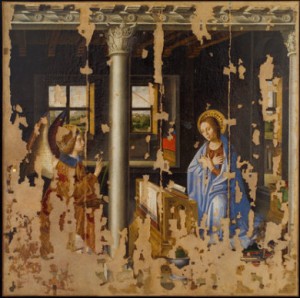 San Gemini Preservation Studies 2016
Restoration: Theory, Ethics and Issues  (2 units)
Session 2 (July 11 – August 5)
Course #: SG207  preliminary syllabus
Instructor: Prof. Max Cardillo
E-mail: mcardillo@iirpsemail.org
COURSE OBJECTIVES:
This course examines the purpose and goals of preservation. Beyond technical issues, there is a series of questions of a philosophical, cultural and moral nature that influences the work of restorers and preservationists. These issues are not incidental; restoration can be a deeply transformative process and can radically change the historical perception of  an object. In cases of misguided restorations, it has been a major cause of destruction of irreplaceable cultural heritage.
Students will learn to assess the various intellectual objectives and technical processes that influence restoration and conservation. In a field where there are no clear or simple answers, this course will guide students towards asking the right questions and to consider all the issues that are relevant to the process of conservation of material culture.
The course is aimed primarily at students of art history, art, architecture, restoration, anthropology, archaeology, museum conservation, and management of cultural heritage.
SUMMARY OF COURSE CONTENT:
Understanding the concepts of transformation, memory and preservation
Understanding the concept of cultural heritage
Assessing the value of a cultural object from an artistic and historical perspective
Assessing the proper context and ownership of art and culture
Learning to implement strategies of conservation
COURSE STRUCTURE:
4 weeks Monday through Friday  Morning lectures,  60 minutes
Assigned reading
Written assignment
LECTURE SCHEDULE:
1. San Gemini urban development – Visit to San Gemini
2. Transformation, time and memory
3. What is restoration, preservation, conservation and restoration theory
4. Concept of "cultural heritage"
5. Historical practices of restoration and preservation
6. Object vs. idea
7. Original intent of the artist
8. Historical vs. aesthetic considerations
9. Wholeness in art
10. Reconstructions, completions and additions
11. Context and the frames
12. Museums
13. Change and restoration
14. The implications of cleaning an art object
15. Lacunae and integration
16. Strategies for restoration
17. Visiting Lecture – Mark Giddings
18. Visiting Lecturer – Antonio Rava
19. Visiting Lecturer – Antonella Ozino Caligaris
20. Visiting Lecturer – Director of Local Civic Museum
READINGS:
Stanley Price, Kirby Talley, Melucco Vaccaro, (eds.) Historical and Philosophical Issues in the Conservation of Cultural Heritage Getty Conservation Institute
Cesare Brandi, Theory of Restoration ICCROM
DESCRIPTION OF ASSIGNMENTS:
Class discussion of reading material
Term paper 1: 8 -page paper on a topic to be assigned
Term paper 2: 8 -page paper on a topic to be assigned (only graduate students)
Exam(s): Essay questions