Archaeological Excavation of the Public Baths, Carsulae
Project Scientific Director: Jane Whitehead
Project Architect: Max Cardillo
Conservation Consultant: Nikolas Vakalis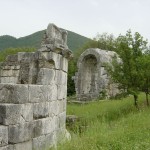 Carsulae was a medium-size city, built along the via Flaminia in the 2nd century BC as part of the Roman colonization of Umbria. The city was abandoned in the 3rd century AD probably due to seismic activity. As one of the principal archaeological sites in Umbria, Carsulae has been explored numerous times since the 18th century. The most important excavation, by Umberto Ciotti, took place between 1951 and 1972. After a hiatus of thirty years, a new campaign began with the excavation of the public bath area. It is directed by Prof. Jane Whitehead, with San Gemini Preservation Studies collaborating on various phases of the work.
In 2004 work began by clearing and surveying of the site. Excavation started in 2005 involving the complete excavation, documentation, and conservation of the Public Bath structures. Work is ongoing and is expected to last several more years. In 2012, the Associazione Valorizzazione del Patrimonio Storico–Sangemini, together with San Gemini Preservation Studies, designed, financed and built a 600 square meter steel structure to protect the central portion of the excavation site from the weather. San Gemini Preservation Studies will be involved in the consolidation of some of the structures that have emerged from the excavation.
To this day, we don't know much about these public baths. Although they were partially excavated between 1955 and 1975, little documentation remains. One theory claims that Carsulae was home to an ancient cult that formed around curative waters. If this is correct, these baths must have served an important function for this cult.
Contact information:
Prof. Jane K. Whitehead
jwhitehe@valdosta.edu
Prof. Max Cardillo
Director, San Gemini Preservation Studies Program
International Institute for Restoration and Preservation Studies
203 Seventh Ave.
Brooklyn, NY 11215
718 768 3508
mcardillo@iirpsemail.org