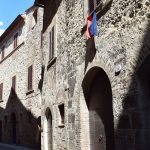 Participants stay in apartments or houses that are available in the town of San Gemini, sharing bedrooms that can vary from two to three beds. There are also shared bathrooms. All apartments have kitchens with basic cooking utensils and laundry. We provide a weekly change of linen (bed sheets and one bath towel).
The apartments vary as we renew rental contracts with whatever is available to us every year. The conditions can differ, but all provide basic, comfortable living conditions in the historic center of San Gemini. Most of the accommodations are in medieval buildings that have very thick walls, which can keep living quarters cool on hot days, but cold on wet days. Most do not have air conditioning. All accommodations are within walking distance to classrooms and the center of town.
We provide basic cooking facilities that enable students to eat for a very moderate price. In town there are several bars and restaurants where students can eat.
There is free wireless internet available in Palazzo Vecchio, our main classroom and office. There is also free wireless available in the central piazza and in the 2 main bars/cafes. We cannot guarantee that there is internet available in every apartment.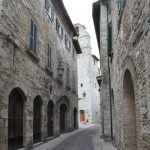 Single room accommodations within a shared apartment (sharing bathroom and kitchen) is also available. The fee for this option is one and a half that of the normal accommodations fee ($900 per program), but the cost will also depend on the availability.
If you are interested in finding out more information about other accommodation options for participants in our program, such as the local hotel or a private apartment, please contact Polly Withers at pwithers@iirpsemail.org. or Sotiris Kourtesis at skourtesis@iirpsemail.org. In order to cover the extra cost, we must add 15% service fee for any special arrangements such as arranging for a private apartment.