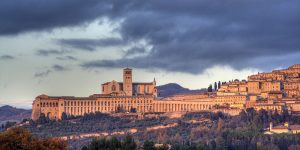 After Rome Assisi is the most important place of religious pilgrimage in Italy. It is the home town of Saint Francis the patron Saint of Italy. From an artistic point of view it holds some of the best examples of late medieval art among which the work of Giotto and Cimabue.
Getting there  from San Gemini by public transportation (about 2hrs travel time) :
From SG take bus to  the Terni rail station and there take FS train or regional bus line going to Assisi. From the Assisi train station take city bus that takes you to Piazza dell'Unita d'Italia. From there start your walking tour.
Sites to visit:
Basilica of San Francis (Upper and Lower Church)***
Piazza del Comune **
Roman Forum excavation **
Temple of Minerva**
Church if Santa Maria degli Angeli and the Porzuncola ( in the valley near rail station)**
Churl of Santa Chiara *
Duomo of San Ruffino and  archaeological excavation of original church *
Rocca Maggiore (castle) great views from outer tower*
Basilica di San Pietro*
Abbei of San Damiano (outskirt of city)*