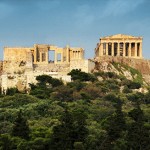 Athens: Heritage and Modernity
A twelve-day visit, guided by experts, that explores the Greek city of Athens, and the many historical layers left to us by the passage of time. From prehistoric settlement to the modern city of today, we investigate how Athenians deal with the challenges of preserving their extensive cultural heritage, both ancient and new.
The trip includes lectures and visits to the city and its monuments, including talks and guided tours by the specialists involved in the conservation and restoration of monuments.
For further information visit our program website: