March 27th , 2013 → 12:06 am @ Istruttore // No Comments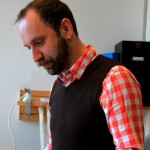 The creation of a custom-made cradle to minimise risk during the digitisation process 
Article by Flavio Marzo published in the website of bookandpapergathering.org .
The following article is very interesting and relevant to the San Gemini Historic Archive Digitisation Project being now carried on by the San Gemini Preservation Studies. A delicate aspect of digitization is being able to hold in position the frail books for scanning or photographing without damaging them. Flavio Marzo presently involved with the Qatar British Library Digitisation Project has been dealing in a very practical way with this issue.
Flavio Marzo will be teaching this summer a course on the restoration and conservation of books and bookbinding at the San Gemini  Preservation Studies in San Gemini, Italy