March 26th , 2013 → 11:34 pm @ Istruttore // No Comments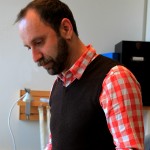 By Flavio Marzo
The Qatar Foundation (QF) and the British Library (BL) have agreed to develop a long-term partnership (10 years) to provide online access to digital copies of geographically-scattered collections of archives and manuscripts relating to the Arabic world through a portal.
Qatar Foundation for Education, Science, and Community Development is a private, non-profit organisation that is helping transform a small but wealthy state from a carbon economy to knowledge-based economy by unlocking human potential in Qatar, the region and around the world. Founded in 1995 by His Highness Sheikh Hamad Bin Khalifa Al-Thani, Amir of Qatar, QF is chaired by Her Highness Sheikha Mozah Bint Nasser Al-Missned. QF carries out its mission through three main pillars: Education, Science and Research, and Community Development.
The overall aim of the partnership is to work together to make relevant material available to promote worldwide understanding of Arabic cultural heritage and history through freely available content, discoverable in Arabic and English; and by providing rich interpretative, contextual and pedagogical resources that make the material accessible to scholars and to the general public.
There are many different areas working on the programme bother internally within the BL, and externally. The 10-year partnership agreement is between the British Library and Qatar Foundation. The current programme (Phase 1 of 2 years) is also principally between the BL and QF although other organisations (including contractors) will be involved in the programme.
One of the key benefits for staff working on the programme and for the project itself is that the majority of the staff (Curators and cataloguers from the different collections areas from which the material to be digitalised comes from, a conservation team and a team of photographers) are working in the same area on the 6th floor of the main building of the British Library (London). This peculiar environment naturally promotes communication across the programme and provides for everyone working on the programme a good and very useful working knowledge of every other area of the programme. This aspect is actually a quite unique feature compared to most of the other digitisation projects within the British Library and in other institutions.
The conservation input is to support the digitisation process by enabling the safe and best access to the collection material.
I am in charge of a small team of 3 conservators, myself, a full time paper/book conservator called Anna Hoffmann and a part time one called Katherine Knowles.
Flavio Marzo ACR

Conservation Studio Manager

BL/QF Partnership

T +44(0) 20 7421 7740

M +44(0) 7501 154 622

 

The British Library
96 Euston Road
London
NW1 2DB