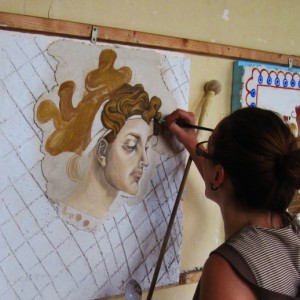 San Gemini Preservation Studies 2019
Workshop – Traditional Painting: Materials and Methods
#SG208B (2 units)
Session 2 (July 8 – August 2) 4 weeks
Course #: SG 208A preliminary syllabus
Instructor: Prof. Nikolas Vakalis
E-mail: nikosvakalis@libero.it
COURSE OBJECTIVES
This painting workshop aims to give students a better understanding of traditional Italian painting materials and painting techniques by giving them a chance to realize materially a series of paintings using these methods. This workshop is not an art class, although good aesthetics are appreciated. The main objective of the course is for students to understand well the painting process, the difficulties and limitations associated with each technique and how they influence both the aesthetics and the image making process.
The knowledge acquired in this course can be of interest to students of art restoration, painting, art history, art management and museum studies.
LECTURE TOPICS
Part 1. Renaissance Fresco Technique
Support, preparation
Image transfer
Painting

Pigments
Paint preparation
Brushes

Secco
Glazes
Cleanup methods
Part 2. Sgraffito
Support, preparation

Arriccio
Base black coat
White surface coat

Image transfer
Scraping
Part 3. Painting on Wood Board using 14th Century Methods
Board preparation
Paint

Pigments
Tempera binding and emulsifier

Glazes and varnishes
 Gilding

Bolo
Gold foil
Burnishing
Part 1. Oil Painting on Canvas using 17th Century Methods
Prepare stretchers
Install canvas
Canvas rendering
Paint

Pigments
Oil binders and emulsifiers
Brushes
Cleanup methods

Glazes
Varnishes
COURSE STRUCTURE
Four weeks from Monday to Friday. Morning and afternoon, 4-hour workshop sessions.
ASSIGNMENTS
Workshop projects, assigned reading
REQUIRED READING
Cenino Cenini, The Craftsman's Handbook.
REQUIREMENTS
Courses SG208A (theory) and SG208B (workshop) must be taken together.