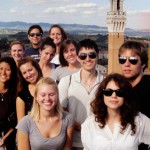 San Gemini Preservation Studies 2019
Field trip to Siena, Florence and Rome (1 unit)
Intersession (June 23 – July 2) 10 days
Course #: SG205  preliminary syllabus
Instructor: Cornelia Danielson
Assistant: Dr. Emanuela Grifoni
E-mail: mcardillo@iirpsemail.org
A ten-day trip visiting Siena, Florence and Rome that includes guided visits to places of cultural interest to look at the urban structure and its historical development as well as specialized visits to places of interest to restorers, such as research laboratories for restoration and active sites of restoration. Students will also have time do visits on their own.
The trip is open to all students participating in Sessions 1 and 2 but is an option. The fees for the trip are in addition to the other tuition and will be paid for separately by those students who want to participate. The unique aspect of this trip is access to restoration centers and restoration sites that would be difficult to have as an independent visitor.
Siena – 2 days
One of the most beautiful medieval cities in Europe. Two days will be visiting Piazza del Campo and the historic center to view the evolution of the city, Palazzo Pubblico, Duomo, Museo dell'Opera del Duomo (OPA). A preservation visit TBD.
Florence – 3 days
Will include a visit through the historic center for an explanation of the development of the city. The Duomo complex, Pizza della Signoria, Ponte Vecchio, Santo Spirito, Santa Felicita, San Miniato al Monte. Church of San Lorenzo, Sacrestia vecchia, Sagrestia nuova, Capella dei Principi, Laurentian Library, Sanrta Croce and Pazzi Chapel. Opificio Delle Pietre Dure (stone and metal restoration lab).
Rome – 3 days (students can remain after scheduled visits)
Will include a visit to the Istituto Superiore per la Conservazione ed il Restauro, the main government restoration school and research center. A guided walk through the city to explain organization and evolution of historic center including visits to: Roman Forum, Santa Maria Antiqua, Colosseum, San Clemente, Tempietto di Bramante a San Pietro in Montorio, Villa Farnesina, Palazzo Farnese, Palazzo della Cancelleria, Chiostro di Bramante, San Luigi dei Francesi, Campidoglio, Pantheon, stone restoration laboratories in Vatican and restoration site in the Vatican Gardens, Vatican Museums.