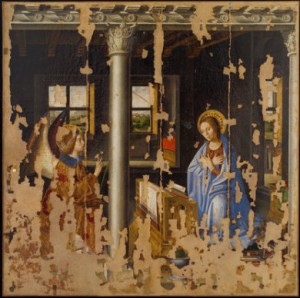 San Gemini Preservation Studies 2019
Restoration: Theory, Ethics and Issues  (2 units)
Session 2 (July 8– August 2)
Course #: SG207  preliminary syllabus
Instructor: Prof. Max Cardillo
E-mail: mcardillo@iirpsemail.org
COURSE OBJECTIVES:
This course examines the purpose and goals of preservation. Beyond technical issues, lie matters of philosophy, ethics, cultural values  and "best practices" that influences the work of restorers. These issues are very important, because misguided restoration work is a major cause of destruction or falsification of an irreplaceable cultural heritage. In a field where there are no simple answers, this course, will teach students to assess the goals and values that guide and influence restoration and conservation.
The course is aimed primarily at students of art history, art, architecture, restoration, anthropology, archaeology, museum conservation, and management of cultural heritage.
TOPICS DISCUSSED IN COURSE:
Transformation time and memory
• Entropy and reorganization
• Time as a measure of entropy
• Present past and future
• Memory and foresight
• Types of memory
• Cultural heritage as collective memory
• Restoration preserves memory
• Curators edits of collective memory
What is the value of things we preserve
• Aesthetics
• Historic
• Religious
• Symbolic
• Scientific
• Functional
Transformations done to cultural objects
• Recycling and collage of old material
• Anastilosis
• Restoration
• Conservation
• Additions
• Completions
• Adaptive reuse
• Substitutions
Types of Restoration
• Artistic
• Artistic in style
• Scientific
Motivations behind restoration
• Preservation of cultural heritage
• Commercial or economic interest
• Institutional policy
• Nationalism
• Religious motives
• Obsessive behavior
Ethics of restoration
• Veracity and transparency
• Reversibility
• Preserving multiple values of objects
• Cultural heritage as collective human property
• Owners as custodians of the collective property
Wholeness
• When is art or an object whole
¤ Original intent of the artist
¤ Material integrity
¤ Cultural integrity
¤ Historical integrity
¤ Contextual integrity
• Degradation of integrity
• Potential unity of the (Cesare Brandi)
• Fragmentation
Phases of restoration
• Consolidation
• Cleaning
• Preservative treatments
• Presentation and Integration
Cleaning
• Evaluating necessity
• Does dirt have historical value
• Dirty patch
• Cleaning to last layer of dirt
Presentation and Integration of art (retouching)
• Modulation of lacunae's tonality
¤ Monochromatic
¤ Chromatic modulation
¤ Chromatic abstraction
• Integration
¤ Mimetic
¤ Semi-mimetic
• Tratteggio (rigatino)
• Puntini
• Chromatic selection
• Down toned or simplified retouching
• Sculpture, buildings, books, ceramics
Context
• Spatial
• Cultural
• Historical
• Perception
• Psychology
Space of Paintings
• Pictorial plane
• Pictorial space
• Viewers space
Space of Sculpture
• Mass of the sculpture (negative space)
• Surface of the sculpture
• Space of action of the sculpture
• Space of the viewer
• Space transformed by the sculpture
Space of a building
• External space of the building
• Internal space of the building
• Mass of the building (Negative space)
• Viewer's path
Frames, borders, pedestals, covers, margins
• Protective edge
• Psychological or visual transition
Museums
• Conservation
• Accessibility to the public
• Decontextualization
• Contextualization
• Collections
Copies
• Substitutive
• Reconstructions
• Pedagogic
• Revivals
Completions of Unfinished Objects
• Functionality
• Status of unfinished condition
Strategies of Preservation
• Preservation laws
• Restoration guidelines
• Cultural risk maps
• Dispersion of cultural heritage
Cultural property
• Private
• Heritage of local communities
• National heritage
• World heritage
READINGS:
Cesare Brandi, Theory of Restoration ICCROM
DESCRIPTION OF ASSIGNMENTS:
Class discussion of reading material
Term paper 1: 5 page paper on a topic to be assigned
Term paper 2: 5 page paper on a topic to be assigned (only graduate students)