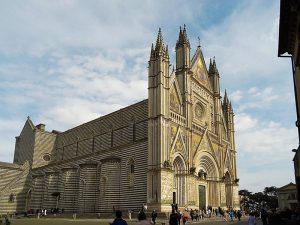 Orvieto
An ancient Etruscan city facing the Tiber valley it is known for its iconic Duomo, relics, interesting museums and its light white wine.
Getting there from San Gemini with public transit (2-3 Hrs) :
From SG take bus to Terni train station there take any FS train to Orte. (Most trains to Rome stop in Orte). From Orte  take a train to Orvieto which is not far however the train connections are not great and it can take as long as 3 hrs to get there. This is a case were chartering a van from SG can make sense.
Sites to visit in Orvieto:
Duomo and San Brizio Chapel ***
Museo dell'Opera del Duomo**
Museo Archeologico Nazzionale **
Museo Claudio Faina (classical ceramics collection)**
Tour of Subterranean Orvieto**
Etruscan Necropolis of the Crocifisso del Tufo **
Church of San Giovenale**
Piazza della Republica and  the Church of Sant"Andrea**
Palazzo del Capitano
Fortezza Albornoz