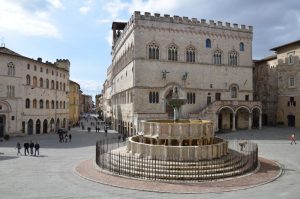 Is the administrative center of the region Umbria is a lively university town and one of the most interesting "Medieval" cities in Central Italy. Its origins go back to ancient Etruscan and Umbrian settlement at the beginning of the 1st millennium BC. though it is now characterized by its medieval city center.
Getting there from San Gemini by public transports:
1) FCU railway  from San Gemini Rail station to Sant'Anna  Station in Perugia be ware tha the  first stop in Perugia is at Ponte San Giovanni ( do not get off there) then the train goes backwards towards Sant'Anna station. This is the fastest and cheapest way to get to Perugia. From the Sant'Anna station you can walk or take the escalator to the center. (about 50 minutes on train)
2) Take bus to Terni rail station there take the FS train to Perugia Fontivegge (Stazione Centrale). From there take city bus or monorail up to the historic center. (about 2 1/2 hrs. travel time)
Sites to see in Perugia:
Palazzo dei Priori (city hall)
Galleria Nazionale ***
Colleggio del Cambio ( frescos by Perugino) ***
Sala dei Notari **
Corso Vannucci & Piazza IV Novembre with the Fontana Maggiore with sculptures of Nicola and Giovanni Pisano ***
Archaeological Museum at San Domenico **
Church of Sant'Angelo and the city gate of Sant'Angelo **
Rocca Paolina, Piazza Italia and Giardini Carducci**
Epogeo dei Volumni – Etruscan funerary crypt (outskirts of city – take bus)**
Museo Capitolare del Duomo di San Lorenzo**
Church of San Domenico *
Capella di San Severo*
Church of San Pietro  and Porta San Pietro*
Arco Etrusco  and Etruscan city walls*
Duomo of San Lorenzo
Via dell'Acquedotto
for other attractions consult guide books
In summer Perugia hosts many of the concerts of Umbria Jazz.
Please consult schedules of sites and transportation before making travel plans.