Survey of The Church of San Giovanni Battista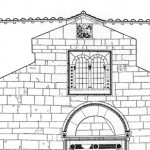 The architectural survey involves measuring the volumetric aspects of the building and describing it in its present condition with the traditional graphic tools of architecture: plans, elevations, sections, axonometric views.
The measuring and collection of data have been done using various methods and instruments, much of it with traditional techniques such as tape measures, transits, tube levels, tracings, and rubbings. We have also used some modern instruments, such as laser range finders, total stations, and photogrammetry.
Drawings are created using various CAD software packages.
Photos :
Surveying