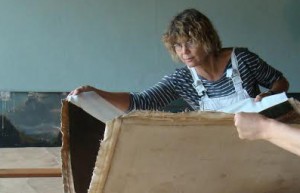 NOT BEING OFFERED IN 2018
(2 weeks – 10 days of workshop – 70 hours)
Instructor: Eugenie Knight
The program is aimed at restorers who wish to integrate and exchange knowledge about restoration methods used in Europe and in the United States
A theoretical introduction to the basics of structural treatments will make it possible for students with less experience to approach the practical course on paintings and mock-ups provided during the course.
There will be hands-on work on paintings with different state of conservation problems, letting students try out different lining methods:
The "pasta" lining, the method most frequently used in southern Mediterranean countries.
Hot table lining treatments with synthetic adhesives, with different temperature reactivation and their reactions on paintings with different techniques, such as tempera, oil, and thin and thick preparatory layers.
Consolidations of paint films, through local or total impregnation of film layers or canvas, with heat reactivation under suction where necessary
Loose lining, meaning the application of mobile supports in between the original canvas and the stretcher
Local treatments such as mending tears using the microscope to create missing threads to be placed within losses, using polyester monofilament transparent supports, using epoxy resins.
Flattening small deformations with the help of magnets, suction treatments, weights.
Projects will be planned with the students by closely examining objects before beginning treatment and by considering different alternative approaches.
Lectures will include information on the history of structural treatments and their recent evolution.