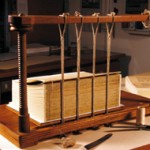 San Gemini Preservation Studies 2016
Introduction to the Restoration of Book Bindings in Italy  (3 units each course)


Session 2  Program C (May 30 – June 24) 4 weeks
Course #: SG204A,  SG204B  preliminary syllabus
Instructor:


COURSE OBJECTIVES:
This course on the restoration and conservation of book bindings aims to give an overview of book conservation looking at the book as a three-dimensional structure both in theory level as well as hands-on experience. The course will also introduce students to the history of book making, focusing on the Western tradition. It will go from the birth of the book as we see it today (the codex) to the modern industrialized book making processes.
Lectures will deal with the following subject matter:
1) History of the structure of written material
2) Evolution of the book and the different binding structures
3) Materials and techniques used in the production of books
4) Factors in the deterioration of the materials and structure of books
5) Approaches to the restoration of books
6) Environmental and life circle issues related to preventive conservation approaches
7) Ethical issues in the restoration  and conservation of books and other cultural objects
Practical workshops
1) Produce four replicas of historically documented book structures in order to gain a better understanding of all the physical features of the book and how these can impact the process of restoration and preventive conservation work.
2) Learn to analyze the book structure
3) Documentation of the book structure
4) Realization of conservative enclosures for books, miscellaneous fragments and valuable objects
5) Participate in the digitization project of the San Gemini Historical Archives
See Course Outline PDF
This course is aimed at two types of students: those planning to become paper restorers, and those planning to manage paper-based resources in libraries, archives or museums. For those planning on a career as a restorer, this will be a good introduction to the field that will need to be followed by formal education. For those planning to manage paper-based resources, it will be a good overview of the field and offer insight and experience on how to manage the safe storage and conservation of paper materials.
COURSE STRUCTURE: Four weeks. Monday to Friday. Theoretical lectures will be  (8:30-12.30) morning sessions.  Afternoon workshops will be 4 hours . The course includes some study visits to local libraries and archives.