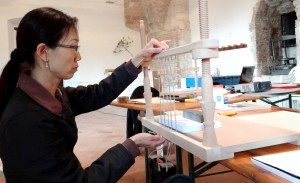 San Gemini Preservation Studies 2019
Syllabus:Introduction to the History and Craft of Book Bindings 
Session 1 (May 27- June 21) 4 weeks
Course #: SG204A preliminary syllabus
Instructors: Nikolas Sarris
COURSE DESCRIPTION:
This course introduces students to the history and evolution of Western bookmaking, from the codex, a completely handmade object, to modern, highly industrialized book making processes. The course also introduces students to the craft of traditional bookmaking: the materials, the tools, the sewing structures and the assembly process of the various elements.
SUMMARY OF LECTURE CONTENT:
Book components and terminology, writing support/media:
• Overview of bound written material
Tablets
Scrolls
Bamboo books
Palm leaf books
Quipu
Codex
• Paper: Overview
Manufacture techniques
Woven
Machine made
• Parchment:
Overview
Manufacture techniques
Recognition of the animals
• Decorative papers
Glue paper
Xylographic paper
Printed paper
Marbled paper
• Writing area
Margins
Pagination
• Inks
Carbon ink
Iron gall inks
Mixed inks
Printing inks
• Text decoration
The book structure: general notions about book structure and terminology
• The section: fly leaves, paste down, types: integral, separate (diagrams)
• Sewing: unsupported: "Eastern" (Coptic-Islamic- Byzantine)
• Sewing thread: vegetable fibers (linen, hemp, cotton), animal (silk, wool), synthetic
• Supports: cord (single, double), tape, leather (tanned, alum tawed–strip single double, tongue, split, twisted)
• Sewing techniques
Without supports: sewing with curved needle, chain stitch, kettle stitch
With support: with straight needle, on cords, single, double, all along, with compensation, herringbone sewing
On tape, all along, alternate French tape
On alum tawed single, split, etc.
Knots, when, where and how to make them
• Spine shapes: Rounded and backed, flat
• Spine lining:
Materials: vegetal materials (cotton, linen cloths)
Animals (leather, parchment), reused fragments
• Techniques: over-all, transfer, comb, panel, slotted
• Adhesives
Vegetable glue (starch)
Animal glue (rabbit, bovine, ovine, mixed)
Synthetics
How to recognize them and what and how to use them in conservation
• End bands: Western/Eastern with or without cores
Material for the cores: vegetable cord, synthetic, animal (leather strips)
Material for sewing: vegetable threads (linen, cotton), synthetics
Techniques:
Primary sewing: number of cores (single or double), front or back bead, number of tie downs (structural or decorative)
Secondary sewing (decorative): number of cores, materials, techniques for sewing (chevron, etc.), laced or not laced to the boards
• Book edges—trimming of the edges
Techniques: trimming of the edges (with or without the boards, blade marks), with or without squares
Decoration of the edges: painted (sprinkled, painted, marbled, etc.), goffrated, gilded
• Boards
Materials: wood, paper board (laminated using reused material, pulp board)
Techniques
• Covering material
Materials: paper, leather, cloth/fabrics (vegetable, synthetic), metal manufacture techniques
Deterioration processes of tanned leather, alum tawed leather
Identification of the animal species, leather tinting
Leather skiving
• Covering with adhesives: vegetal (starches)
Animal (cow hide, pig hide), synthetic (PVA, EVA, etc.)
• Turn-ins: sequence of turning the leather on the boards, different techniques in trimming the corners
• Decoration of covers: Techniques: blind, gilded, etc. Tools for decoration
• Fastenings
Styles and materials
AFTERNOON WORKSHOP:
In the workshop each student will create from scratch four blank page books using four historical bindings systems and original materials and tools. Some historic materials, such as parchment, which is expensive will be in part substituted with modern imitations.
Preparation of the book blocks
• Folding and preparation of the sections (20 sections or gatherings), each made of 4 bifolia, to produce four different book blocks
• How to place and space the sewing stations onto the spine
Binding types to be made: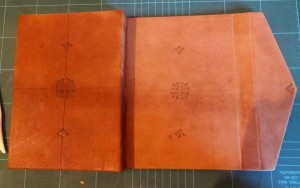 1) Unsupported sewing structure (Islamic style)
Used typically from the Early Middle Ages to the 18th century in the Eastern Mediterranean and Middle East, commonly with book block in paper.
Features:
The text block is sewn on four sewing stations.
A spine lining of linen is applied to secure and stabilize the book-block.
Islamic end bands (primary and secondary sewing) are executed at head and tail. The cover will be made in two halves with front flap.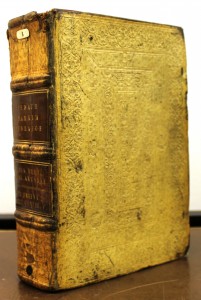 2) Western medieval-style binding
Europe from 14th to 19th centuries with parchment and paper book blocks.
Features:
The book block is sewn on three double cord supports with packed sewing all along.
A parchment or linen spine lining is applied on the spine between the supports (panels).
Western end bands with primary and secondary sewing around cord cores are made at head and tail. The supports are laced through the boards. Attaching the spine lining on the inside of the boards reinforces the board attachment.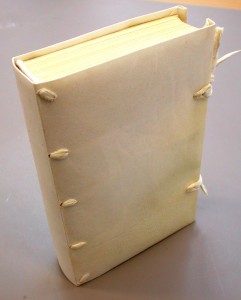 3) Limp parchment binding
Sewing structure commonly found in Southwestern Europe from the 15th to 18th centuries with book blocks in parchment and paper.
Features:
The book block is sewn on three single alum tawed support with all along packed sewing.
A spine lining of Japanese paper is applied to the spine to secure the book block. End bands with primary sewing on alum tawed cores are made.
A soft laced cover is applied to protect the book block.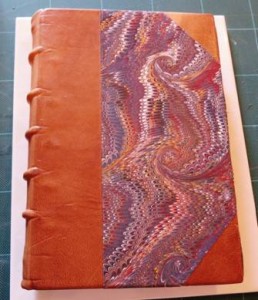 4) Modern Western case binding, sewing on tapes
Used typically during the 18th and 19th centuries with paper media.
Features:
The book block is sewn on three linen tapes with all along sewing.
A linen cloth spine lining is placed to secure the book block.
Two false end bands are applied to the spine at head and tail.
A cloth case cover will be made to cover the book block.
COURSE OBJECTIVES:
This course is designed primarily to provide basic knowledge and skills to people going into the field of book restoration and management of book resources, although it can also be useful to people going into the field of bookbinding and book design.
For those planning a career as book conservators, this is a good introduction to the field to be followed up by further education. For those planning to manage book collections or archives, it offers basic skills in analyzing the nature of bound material, understanding the state of conservation, best practices in handling, storage and conservation.
Students of the following subjects can find this program useful: Bookbinding, book conservation and restoration, library science, library management, archival sciences, management of rare book collections, book design, and history of technology.
COURSE STRUCTURE:
Mornings: Lectures 4 hours. Afternoons: 4 hours field work
READINGS:
Reading list supplied with acceptance to the program.
DESCRIPTION OF ASSIGNMENTS:
Field work: Complete various assignments that are given as part of the field project
Term paper #1: 8-page paper on a topic to be assigned
Term paper #2: 8-page paper on a topic to be assigned (graduate students only)
Exam: mixed format – quiz and essay questions.