Field Project -The City of San Gemini Historic Archives & Dioceses of Narni Historic Archives Document Restoration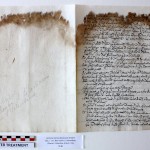 Part of the work done by students in the paper restoration workshop involves material from the historic archives of the city of San Gemini and from the historic archives of the Diocese of the city of Narni. Besides educating students on the methods of paper restoration, part of the goal of the course is to help restore and preserve historic documents in these two archives.
Most of the material we work on from these archives is manuscripts in single sheets, or small pamphlets. Work of this type matches the time-frame and scope of work that can be done in our month long workshop. This work is very useful to the archives because it often is difficult to fund and organize intervention on small quantities of loose-leaf documents. All restoration work is done  by the students and faculty of the  program and is authorized and supervised by the Soprintendenza per i Beni Archivistici del Umbria.
The material from the San Gemini Historic Archives consisted of single-sheet manuscripts, correspondence accounting and miscellaneous city records, from the 16th, 17th, and 18th centuries. The material from the Narni Diocese Historic Archive are manuscript report from various parishes and church institutions, including pastoral visits done by the bishop to parishes, inventories of church properties, accounting  records and miscellaneous inspections reports. The documents are usually librettos of several sheets stitched together. They often have serious damage from water, insects, mice and acidic inks. In our program, the material was disassembled (taking great care not to lose any additional material), cleaned and treated.
Treatment usually involves various forms of cleaning (usually dry), de-acidification, lining weak papers with tissue to consolidate them, patching missing portions of paper and reassembly with new string and making acid free folders to hold each document. In letters, the tears caused by the breaking of the seals are not repaired because the damage was the result of the intended use of the document.
Sponsors and Collaborations
San Gemini Preservation Studies
Valorizzazione del Patrimonio Storico San Gemini
Comune di San Gemini
Diocesi di Terni, Narni e Amelia
Bilioteca ed Archivio Storico Comunale di San Gemini
Sovrintendenza Archivistica dell'Umbria
Instructors / supervisors:
Prof. Konstantinos Choulis
TA Viviana Nicoletti
TA Andreas Fatouros
Restoration work done in 2013:
Archivio Storico
Diocesano di Narni
Document reference
Sheets
Student Restorer
Doc. 1 Scheda/Data
Doc. 1. Inventario Beni confraternita S. Sebastiano,
Chiesa San Valentino di Calvi, 1729

carte 1- 4
Cobb, Emma (c. 1-4)
Huisman, Clara (c. 2-3)

Doc. 2 Scheda/Data
Doc. 2. Inventario Beni mobili e immobili,
Compagnia del SS. Sacramento,
Chiesa S. Maria di Calvi, 1728

carte 1- 12
Braine, Harriet (c. 1-12)
Gilmore, Catherine (c. 6-7)
Gloster Heather (c. 2-11)
Janover Grace (c. 3-10)
Nessl Keenan (c. 4-9)
Sherman Phoebe (c. 5-8)

Doc. 3 Scheda/Data
Doc. 3. Compagnia del Gonfalone,
Chiesa S. Antonio di Calvi, 1728

carte 1- 8
Lee, Julie (c. 1-8)
Meunier, Elisabeth (c. 3-6),
Settlemeyer Danielle (c. 2-7)
Tucker Emma (c. 4-5)

Doc. 4 Scheda/Data
Doc. 4. Ss. Filippo e Giacomo (Narni), 1728
carte 1- 4
Salvaggio, Lorenza (c. 2-3)
Sherman, Phoebe (c. 1-4)

Doc. 5 Scheda/Data
Doc. 5. Compagnia di S. Antonio Abate di Otricoli,
1728

carte 1- 2
Janover, Grace
Doc. 6 Scheda/Data
Doc. 6. Monastero S. Caterina di San Gemini, 1728
carte 1- 34
Braine, Harriet (c. 2-33)
Burger, Jennifer (c. 12-21)
Cobb Emma (c. 3-32)
Copley Shannon (c. 7-28)
Flores Marcus (c. 11-22)
Gilmore Catherine (c. 1-34)
Gloster Heather (c. 14-19)
Huisman Clara (c. 16-17)
Kinney Shiley (c. 5-30)
Laurino Alaggio (c. 4-31)
Lee Julie (c. 13-20)
Mansurova Valentina (c. 8-25)
Meunier Elisabeth (c. 26-27)
Nessl Kennan (c. 10-23)
Settlemeyer Danielle (c. 9-24)
Smirnova Daria (c. 15-18)
Tucker Emma (c. 6-29)

Archivio Storico
Comune di San Gemini
Doc. 1 Scheda/Data
Busta 56/58, 57, Fasc.1, Doc. 1
4 (2 bifogli)
Mansurova Valentina (c. 1-4)
Meunier, Elisabeth (c. 2-3)

Doc. 2 Scheda/Data
Busta 56/58, Doc. 2
6 (3 bifogli)
Laurino, Alaggio
Doc. 3 Scheda/Data
Busta 56/58, Doc. 3
4 (2 bifogli)
Sherman, Phoebe (c. 1-4)
Kinney, Shiley (c. 2-3)

Doc. 4 Scheda/Data
Busta 56/58, Doc. 4
2 (1 bifoglio)
Flores, Marcus
Doc. 5 Scheda/Data
Busta 56/58, Doc. 5
1 (1 carta)
Smirnova, Daria
Doc. 6 Scheda/Data
Busta 56/58, Doc. 6
2 (1 bifoglio)
Tucker, Emma
Doc. 7 Scheda/Data
Busta 56/58, Doc. 7
2 (1 bifoglio)
Gilmore, Catherine
Doc. 8 Scheda/Data
Busta 56/58, Doc. 8.
1 (1 carta)
Burger, Jennifer
Doc. 9 Scheda/Data
Busta 56/58, Doc. 9
1 (1 carta)
Salvaggio, Lorenza
Doc. 10 Scheda/Data
Busta 56/58, Doc. 10
2 (1 bifoglio)
Nessl, Keenan
Doc. 11 Scheda/Data
Busta 56/58, Doc. 11
1 (1 carta)
Settlemeyer, Danielle
Doc. 12 Scheda/Data
Busta 56/58, Doc. 12
1 (1 carta)
Kinney, Shiley
Doc. 13 Scheda/Data
Busta 56/58, Doc. 13
2 (1 bifoglio)
Gloster Heather
Doc. 14 Scheda/Data
Busta 56/58, Doc. 14
2 (1 bifoglio)
Copley Shannon